"Full circle" is the name of a new e-magazine that covers topics about or closely related to Ubuntu.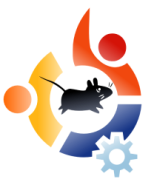 The name comes from the name of the logo, which depicts a circle that contains elements of all major Ubuntu derivatives, namely Kubuntu, Xubuntu and Edubuntu.
The Magazine is yet to have its first issue and right now, there are not enough articles to release one.
If you are interested in writing articles or contributing in some other way to the magazine, visit fullcirclemagazine.org and find out how.